Services
Continuous Rain Gutters provides the following Services:


Rain Gutters:


Protect your home from washed out lawns and flower beds, damage to foundations from water seepage, as well as rotting and staining of home exteriors. We install 5" and 6" continuous aluminum gutters in 24 colors. We install 5" and 6" galvanized and copper guttering.








Patio Covers & Carports:

Compliment your home and get more use from your
patio or garage by installing an aluminum patio cover, arbor or carport. Choose from a variety of
colors and styles.


Screen Room Enclosures: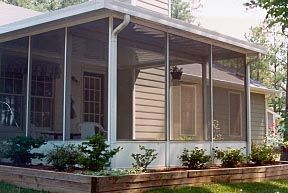 Expand your living space and enjoy the outdoors all day, as well as after dark. We can enclose your room with aluminum screen wire, or reduce the sun's heat by 70% with Solar Screen. A screened room can be designed around your existing patio or deck, or it can be completely freestanding.


FOR MORE INFORMATION, PLEASE CALL OR EMAIL…
(210) 494-1006(210) 490-7414 (Fax)